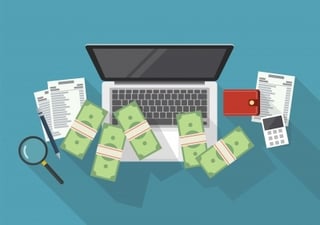 Recently, we spent some time with The VGM Group's home healthcare member companies. At this particular event, it was rare to see an IT professional – instead, the event hall was filled with doctors, owners, and other medical professionals.
Even amongst this group of people, whose main responsibility isn't information security, IT and cybersecurity were still top of mind. We talked to lots of clinicians who had questions about creating, managing, and optimizing IT budgets to help their organizations meet short-term and long-term goals. The IT budget impacts all corners of the organization, ultimately determining what may or may not be realistic for other departments to accomplish.
Here are a few tips to optimize your IT budget, whether you're just getting started or you need to re-evaluate your spending. (Don't have an IT budget? You need one! Without an IT budget, you may end up having to justify and gain approval for every expenditure you make, which can slow things down – especially in a time when decisions need to be made quickly.)
1. Break Out Your Budget
The first step in optimizing your IT budget is knowing exactly where and how you're spending your money. You may be surprised once you see where the dollars are going. Typically, an IT budget has several categories or lines: hardware, software, and staffing, for example.
Gartner recommends dividing budget allocations even further, into categories such as:
Application development
Application support
Data center
Data networking
End-user computing
Finance and administration
IT management
Service desk
Voice networking
These categories are obviously flexible based on the needs and priorities of your organization, but it gives you an idea of where to start.
2. Don't Forget Security and Disaster Recovery Planning
Especially these days, with cyberattacks impacting nearly every organization, an important part of your budget should involve data protection to maintain uptime and ensure privacy. Your budget should also cover your plans to act swiftly when something happens to keep loss at a minimum.
There are many ways you can invest in cybersecurity: through staff training, compliance with standards, testing and assessments, continuous monitoring, etc. But taking the time to determine what mix is best for your organization based on potential threats – and then setting aside the money to pay for it – will pay off immensely when your organization is impacted by a hacker.
3. Align the IT Budget with Your Strategic Plan
What's coming down the road for your organization in the next few years? A migration to the cloud? Investing in Internet of Things (IoT)? Your budget should reflect these initiatives and priorities.
For example, if you dream of moving to the cloud, but you have no resources to make that happen – it probably won't. Your IT budget is a direct reflection of your organization's priorities and future plans.
4. Don't Use "IT Speak"
When presenting your budget to the powers that be, they'll likely be less interested in the actual technology you're talking about – and more interested in how these expenditures will lead to lower operating costs, more efficient employees, the ability to work toward an important initiative that's been on the books for a few years, etc.
Instead of spending lots of time explaining the details about the systems and technology you want to deploy, get right to the point – talk about how these tools will move your organization forward.
Ready to Make the Most of Your IT Budget?
If you already have an IT budget, we can help you redistribute existing funds so the dollars go toward initiatives that will provide the most value and protection possible.
If you don't have an IT budget, we can help you create one. We'll start by focusing on questions like:
Do you comply with industry standards?
What security gaps could a hacker potentially exploit – and how can we fix them?
Is your cybersecurity improving or worsening over time?
Do you have enough set aside in your budget to address a cyberattack if one were to occur?
Want to get going on your IT budget? Let's get started!
Image by: Sira Anamwong