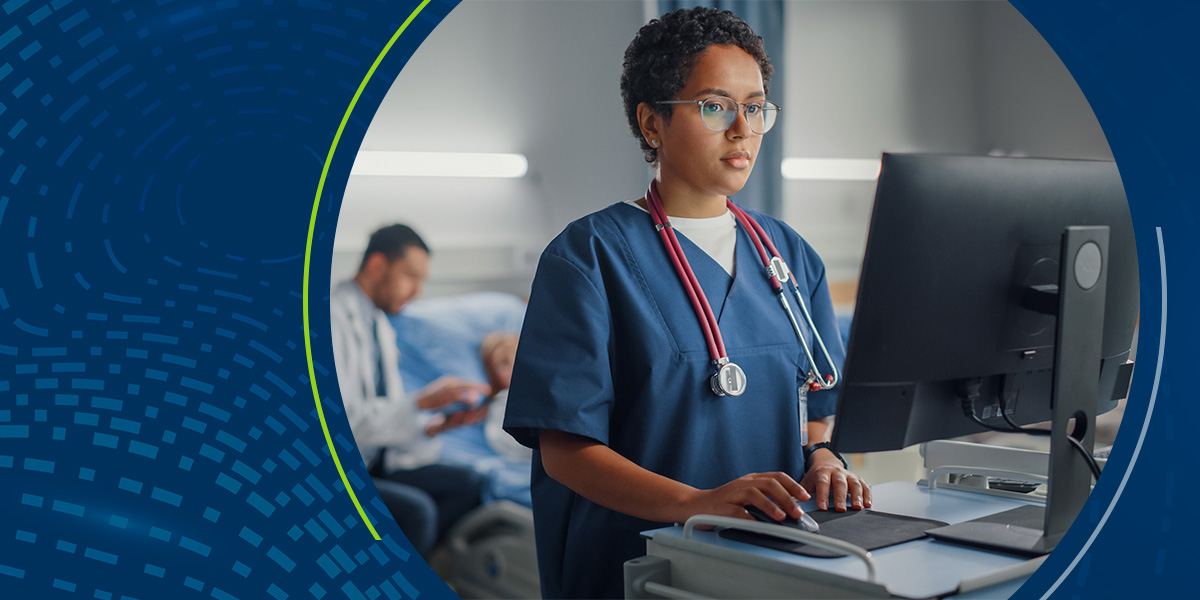 Highly regulated industries, such as defense, pharmaceuticals, healthcare, education, and government, have incredibly stringent cybersecurity compliance requirements. This is for good reason — even a few minutes of downtime could be disastrous for companies in industries like healthcare and financial services, which could lose personal information, intellectual property, and revenue as a result of a breach.
With the ever-changing technology landscape, it is increasingly important for your company to be "cyber smart" and continue meeting the standards and regulatory requirements for your industry. While compliance and security are not necessarily synonyms, they can work together — for example, reviewing compliance requirements can help inform your organization's security roadmap. Building a robust security program is the best way to close gaps across multiple compliance frameworks.
In this article, we'll explain the details of compliance regulation and industry standards for the most digitally vulnerable industries in the United States so you can get a better feel for what you need to do to mitigate risk and improve your organization's cybersecurity posture.
Essential Cybersecurity Regulations and Standards by Industry
Knowing the basic necessities for your industry is essential for obtaining and retaining the proper cybersecurity compliance requirements you need to avoid fines or operate legally in the U.S.
Different cybersecurity regulations apply to each industry, with some similarities depending on the functions included in the standard. Here, we'll briefly discuss the most important standards you need to know by industry and how to achieve compliance with your industry-specific regulations.
Healthcare
The healthcare industry has led the pack in the average cost of a data breach for 13 consecutive years, according to IBM's annual report. These costs keep rising — the average healthcare data breach cost has risen by 53.3%, with an average cost of over $10 million since 2020. With the advancement of the Internet of Medical Things (IoMT), organizations need to invest more in endpoint protection to meet cybersecurity compliance standards in the healthcare industry.
Healthcare organizations must comply with various stringent cybersecurity laws and regulations to operate legally in the U.S. Those regulations include:
HIPAA Security Rule: The HIPAA Security Rule governs how healthcare providers store, process, and manage electronic health records (EHRs). Under HIPAA regulation, healthcare organizations must conduct a minimum of one risk assessment annually to ensure compliance with how they protect protected health information (PHI).
Health Information Technology for Economic and Clinical Health (HITECH) Act: In addition to adding ePHI regulations and strengthening penalties for HIPAA violations, the HITECH Act of 2009 also introduced the Breach Notification Rule. The Rule requires healthcare organizations to notify both impacted users and the Department of Health and Human Services when a breach occurs.
Healthcare Industry Cybersecurity Practices (HICP) framework: This framework outlines 10 mitigating practices organizations in the healthcare and public health sector can follow to reduce risk and better comply with HIPAA requirements.
Payment Card Industry Data Security Standard (PCI DSS): Any organization that stores, processes, or transmits cardholder data —including in healthcare — must comply with PCI DSS. The standard helps protect cardholder data wherever it is used.
One industry-specific way to manage these rules is by applying the HITRUST Common Security Framework to your digital environment. Although not legally mandated, utilizing a framework is highly compatible with HIPAA guidelines and can facilitate compliance management.
Government
A data breach at any government agency poses a threat to national or state security. Consider the May 2023 data breach of the U.S. Department of Transportation, where hackers exposed the personal information of 237,000 federal employees. Stronger cybersecurity compliance for government agencies is essential to protect against future threats.
To tighten the federal government's defenses against digital threats, the White House passed Executive Order 14028: Improving the Nation's Cybersecurity in May 2021. This directive requires government agencies to implement improved cybersecurity measures. It also encourages cybersecurity experts within these agencies to collaborate with private cybersecurity providers to achieve this goal.
Another cybersecurity standard government organizations should comply with is ISO/IEC 27001, which defines important cybersecurity requirements for information security management systems. This standard encourages a holistic approach to cybersecurity, requiring organizations to improve their cyber resilience and adopt enhanced risk management procedures.
Defense Contracting and Manufacturing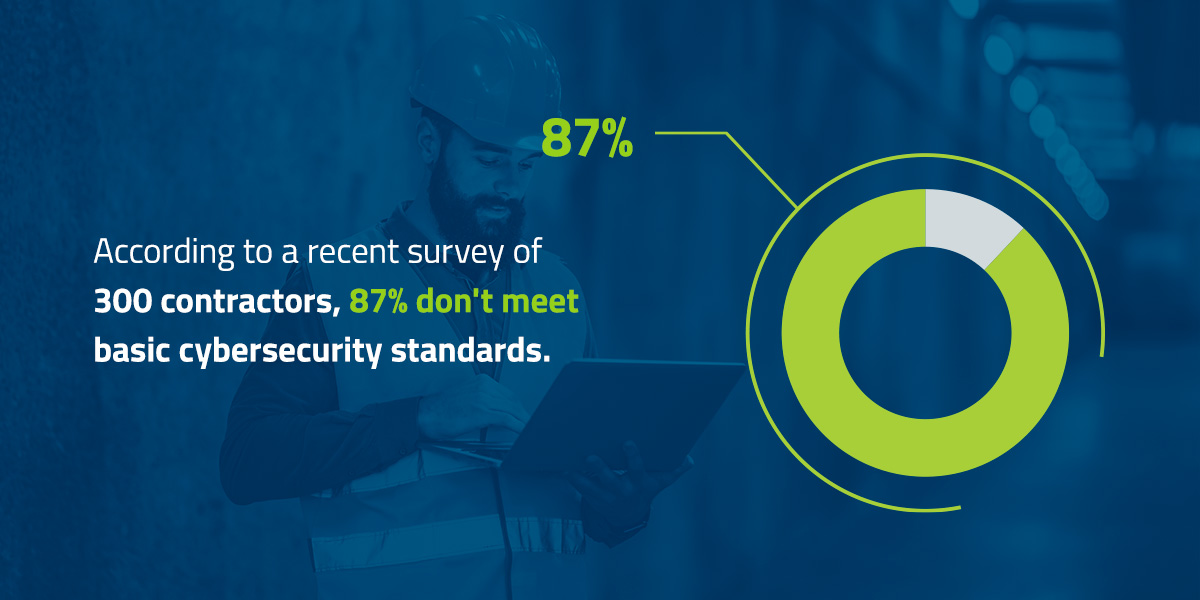 According to a recent survey of 300 contractors, 87% don't meet basic cybersecurity standards. Although the Defense Federal Acquisition Regulation Supplement (DFARS) requires a Supplier Risk Performance System score of at least 70 to be in partial compliance, only 13% of respondents met that score.
Perhaps even worse, more than 80% of study respondents said they had experienced some kind of cyber incident. When national security is on the line, this level of noncompliance won't cut it.
DFARS outlines a detailed process for investigating and reporting cyber incidents if and when they occur. Specifically, it requires contractors to protect and preserve incident evidence for analysis.
In addition to the above, DFARS compliance also requires organizations to implement the National Institute of Standards and Technology (NIST) Special Publication (SP) 800-171 framework. It also extends compliance requirements to all subcontractors.
Other standards defense contractors should follow include:
NIST SP 800-53: This special publication provides a set of cybersecurity controls defense contractors can use to strengthen their security posture while maintaining high productivity.
FISMA: The Federal Information Security Modernization Act (FISMA) updates previous cybersecurity guidance for every federal agency by codifying the role of the Department of Homeland Security and defining a framework to protect government information, operations, and assets against threats.
ISO/IEC 27001: Because it emphasizes a comprehensive approach to information security, this standard can help defense contractors address their weak points in DFAR compliance.
Education
Educational institutions — especially institutions of higher education — add more online services to their digital environments each year. Although these services enable you to provide students with a personalized education, adding more to the list also expands your digital attack surface. That means there are more opportunities for malicious actors to enter your environment and cause harm.
All publicly funded schools — including any private schools that receive public funding — must adhere to the Family Educational Rights and Privacy Act, which protects the privacy of student education records in the U.S. Additionally, while not an education cybersecurity compliance requirement, schools should consider applying the controls in NIST Cyber Security Framework (CSF). Adhering to this standard can help educational institutions better navigate the constantly evolving threat landscape.
Taking proactive measures can help protect your organization against malicious actions. The U.S. Department of Education recommends the following cybersecurity best practices for educational institutions at all levels:
Implement multi-factor authentication (MFA) and other access control mechanisms to ensure that only authorized individuals may access certain information.
Prioritize patch management to keep your cybersecurity protections as up-to-date as possible.
Create a cyber awareness and training program for all faculty and staff to reduce the chances of a social engineering attack.
Migrate all IT services to the cloud.
Ensure all storage media is properly wiped after it is retired.
Design thorough incident response plans using the NIST cybersecurity framework to ensure your organization can quickly resume operations after a breach.
The standards mentioned above offer a clear set of guidelines for implementing robust cybersecurity measures that safeguard student data in the education industry.
Banking, Financial Services, and Insurance
Given the vast amount of financial and personal data financial institutions collect, it makes sense that this industry is the second-most attacked, according to the IBM report. From March 2022 to March 2023, the average cost of a data breach for this industry was $5.9 million — although this figure is lower than in previous years, that's still a substantial cost.
Financial and insurance institutions must comply with numerous federal and state cybersecurity regulations, including but not limited to:
Gramm-Leach-Bliley Act (GBLA): Financial institutions, which now include any business engaging in financial activities, must honestly disclose all their data-sharing activity to customers. Penalties for violating the GBLA are severe, with up to five years of imprisonment in extreme cases.
PCI DSS: As in the healthcare industry, any institution that accepts credit card payments must adhere to the PCI DSS standard to keep cardholder information safe.
SOX: All publicly traded U.S. companies — and wholly owned subsidiaries — must demonstrate their adherence to cybersecurity best practices and publicly disclose data breaches should they occur.
General Data Protection Regulation (GDPR): Any company doing business in the European Union (EU) must obtain customer consent before collecting and using their data. They also must disclose data breaches affecting EU citizens.
The cybersecurity guidelines from the Federal Financial Institutions Examination Council (FFIEC) outline a set of best practices that can help financial institutions minimize their risk.
For example, the current FFIEC authentication standards place a strong emphasis on MFA to protect sensitive data from unauthorized users. MFA works by requiring multiple methods of authentication to access an account, which is significantly more secure than using only a password.
Manufacturing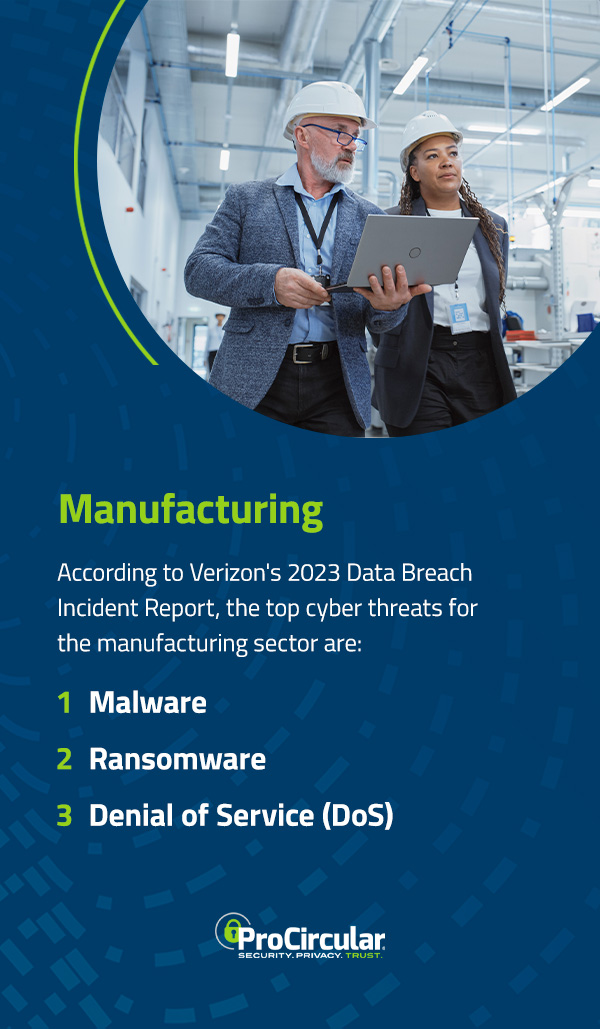 Manufacturing companies possess a wealth of trade secrets and intellectual property (IP), which is why the sector is such a lucrative target for financially motivated cybercriminals.
This problem is rising as our world becomes more connected. In a survey of 1,500 manufacturing IT decision-makers in four different countries, 75% said they believe international IP theft is a growing threat to manufacturers in their nation.
Attackers often try to exfiltrate IP data and either resell it for a profit or bring it to their own company to gain a competitive edge. Either way, losing valuable trade secrets to cybercrime can cause a company to fall behind the competition.
According to Verizon's 2023 Data Breach Incident Report, the top cyber threats for the manufacturing sector are:
Malware: Malicious software is also known as viruses or worms. Malware programs can cause damage in various ways, including crashing devices or stealing information.
Ransomware: This is a specific type of malware that enables the attacker to lock the victim out of their devices or drives until they pay a ransom.
Denial of Service (DoS): In this attack, the attacker crashes your organization's server or network, making your online services inaccessible to both customers and employees. The majority of manufacturing cyberattacks in the first half of 2023 were DoS attacks.
Some of the key cybersecurity standards that apply to companies in this industry include:
NIST Cyber Security Framework: This essential framework provides a guideline for companies to determine how their IT departments will respond to attacks and which tools they will use to do so.
NIST Privacy Framework: This standard provides a framework for collecting and managing user data. Although it's similar to the Security Framework, it places a greater emphasis on communicating your actions with your users.
The NIST also recently released a new special publication for the manufacturing industry (SP 1800-10), which provides guidance on protecting important computer systems from evolving cyber threats.
Another element unique to this sector is factory floor security. With the rise of the Internet of Things, internet-connected machines provide additional endpoints for attackers to exploit. Securing your network and limiting access to authorized staff is critical for protecting your production environment from threats.
Energy and Utilities
The energy and utilities industries are critical for our nation's ability to function — which is why they're attractive targets for hackers. North American energy companies made up 20% of cyberattack victims in 2022, making them the top target in the region for that year.
To properly secure their assets against attack, companies in this sector must follow the cybersecurity guidance of the Federal Energy Regulatory Commission. Standards energy and utilities organizations should follow include:
Cybersecurity Capability Maturity Model (C2M2): This sector-specific standard provides guidance on evaluating the cybersecurity capabilities to private companies, which can help them improve their cybersecurity posture.
Cybersecurity Risk Management Process: This process helps electricity companies better manage their risk and make more informed decisions on resource allocation, operational efficiency, and risk mitigation.
Cybersecurity Risk Information Sharing Program: This public-private partnership facilitates the bi-directional sharing of evolving cyber threats between companies to help them adapt to the new cyber landscape.
NERC CIP: The North American Electric Reliability Corporation Critical Infrastructure Protection (NERC CIP) standards govern cybersecurity requirements for all entities dealing with the continent's Bulk Electric System — including human users.
Life Sciences
Organizations in the life sciences sector — including pharmaceutical companies and medical device manufacturers — ramped up digital transformation efforts to keep innovation moving through the worst months of the pandemic.
With increased digital collaboration and an industry-wide shift to virtual technologies such as cloud-based data storage came greater risk. Similar to manufacturing businesses, life sciences companies must protect their IP to stay competitive in an increasingly connected sector.
Some key standards and regulations that apply to life sciences companies include:
FDA 21 CFR Part 11: This section of the Code of Federal Regulations (CFR) outlines how life sciences companies can implement electronic records and e-signatures in an FDA-compliant digital quality management system.
IEC 62304: This standard, published by the International Electrotechnical Commission (IEC), provides a framework for the life cycle processes of medical device software.
NIST SP 800-53: Life sciences companies can adopt the tools listed in this standard to enhance their security posture while maximizing collaboration.
Cybersecurity Best Practices for All Industries
Once you understand the regulations that apply to your company, you can begin working to improve your compliance and fully adhere to those requirements. Regardless of which standards your company must follow, you can take action to strengthen your attack surface and minimize risk.
Here are some of the steps your organization can take to improve cybersecurity in any industry.
Begin With a Risk Assessment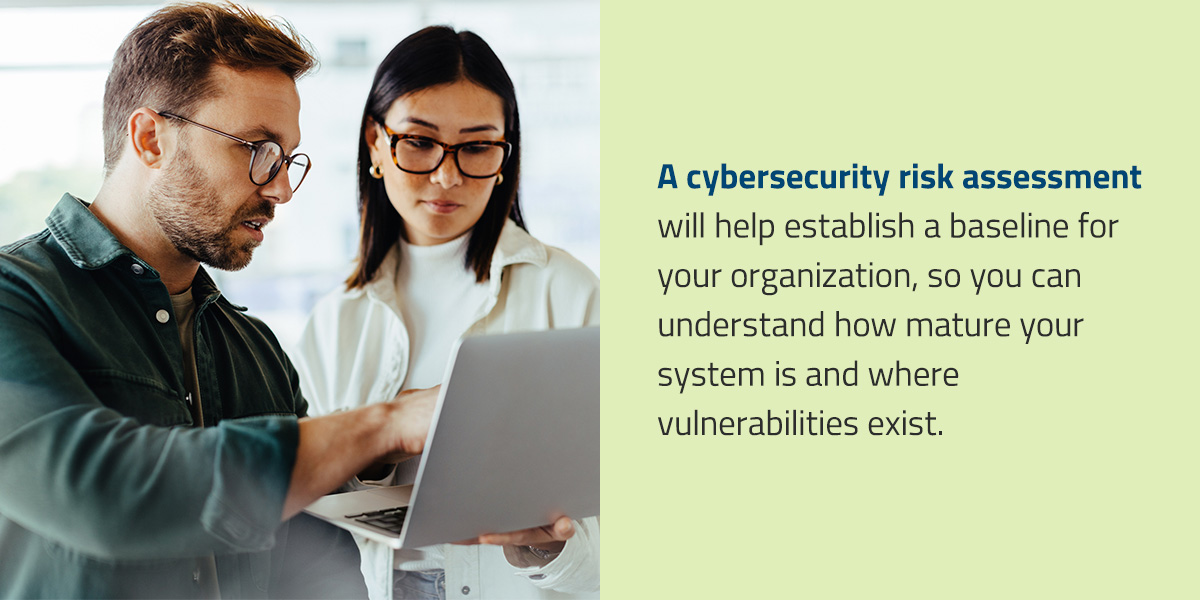 You can't make progress if you don't know where to start. A cybersecurity risk assessment will help establish a baseline for your organization, so you can understand how mature your system is and where vulnerabilities exist. Plus, when you work with a trusted cybersecurity provider, they can also provide:
A summary report detailing all assessment processes and discoveries.
A live explanation of the report with staff and key stakeholders from your organization.
Expert advice for addressing any vulnerabilities discovered during the assessment.
These deliverables can also help determine what your employees need to know, which will help you create a training curriculum that will cover all the gaps.
Create an Incident Response Plan
When your system goes down as the result of a ransomware attack, what do you do? How can you get back to business as quickly as possible while mitigating your reputational risk? An incident response plan is critical for companies in industries where there is little tolerance for downtime — if any.
A detailed incident response plan helps mitigate risk by providing a clear roadmap for the actions your organization will take to resume operations in the event of a data breach. To ensure your plan is effective, your cybersecurity team can work through hypothetical scenarios and tabletop exercises with experts from a third-party security provider.
Test Your Defenses Regularly
Conducting routine tests on your cybersecurity environment can help you understand how well your current systems are working to protect against threats. A reliable managed service provider (MSP) will have the technical resources needed to perform advanced tests like penetration testing.
Also known as "pen testing," penetration testing is a type of assessment that involves a simulated cyberattack. By deliberately attacking your environment, ethical hackers from your cybersecurity provider can identify any vulnerabilities in your system.
Train Your Employees
No matter which industry you're in, human error is a major contributor to cybersecurity incidents — in 2023, 74% of all data breaches included some human involvement.
Investing in your employees is an essential component of investing in your cybersecurity posture. MSPs like ProCircular often offer Security Awareness Training services, where cybersecurity experts will break down everything your employees need to know about identifying and responding to security threats involving the human element, such as phishing and other social engineering schemes.
Protect Your Organization With Help From ProCircular
Organizations in highly regulated industries need extra attention to detail in improving their cybersecurity posture. Partnering with us at ProCircular is a great step toward boosting your organization's cybersecurity posture.
As a fully managed cybersecurity service provider, we are dedicated to helping you defend your company against both internal and external threats while maintaining strict compliance with your industry's specific standards and regulations. When you work with us, we'll provide you with the counsel and resources your company needs — both now and in the future.
Contact us online for more information, or give us a call at 844-960-0922 to speak with a representative. We'll be in touch to help you determine the best cybersecurity solutions for your company.