Technology is essential to modern business operations, but cybersecurity risks and data exposure threats come with that. Thankfully, a virtual chief information security officer (vCISO) can bring comprehensive strategic and operational leadership to security for companies that can only afford a part-time person in an executive cybersecurity role. Amid today's industry-wide shortage of skilled security workers, vCISO could be the best option for finding and retaining critical security leadership.
If you're wondering if you need a vCISO, checking key indicators could clarify your organization's security operational needs and capabilities. Below, we cover points to help you learn how to know if you need a vCISO.
6 Signs
Your Organization Could Benefit From
a vCISO
Does your organization need a vCISO? If you don't have an in-house chief information security officer (CISO), you're likely lacking strategic security guidance, which could put your organization at risk of a data breach. Assess your organization for signs that CISO as a service could be a good fit.
1.
You Don't Have the Budget to Hire a Full-Time CISO Employee
As an executive-level position, a CISO can be a costly investment for small and medium-sized businesses (SMBs) and even larger corporations. Budgetary constraints may be the first consideration as your company shops for options to protect its information assets and technology. Compared to a full-time CISO, virtual CISOs are typically a lesser expense to your organization.
Excellent CISOs can be hard to find and require substantial salaries and benefits. vCISO resources, on the other hand, are estimated to cost only a fraction of in-house cybersecurity resource expenditure, and they are available on demand! Besides saving money, choosing a virtual CISO over an in-house resource could give you access to higher-quality resources due to the access you have to a security company's bench of experts.
2.
You Don't Have Time to Train a New CISO
Bringing a new employee up to speed can take up valuable time and money. Especially in fast-paced or fluid business environments, it can be challenging to onboard and instill confidence in new employees. In comparison, virtual CISOs can hit the ground running.
Their expertise lies in their ability to quickly comprehend and attack information security issues in a plethora of business situations. These dynamic resources are immediately effective because they require very little orientation. Their breadth of experience allows them to adapt to your environment more quickly.
They work in so many industries with so many companies. No matter your business, they've seen it before. They see organizations' successes and shortcomings and then share those lessons with you.
3.
You Have Security Compliance Needs
While different vCISOs offer different skill sets, you should choose a consultant with the tactical or strategic skills that align with your organization's unique governance, risk management, and compliance (GRC) needs.
To improve the managerial aspects of cybersecurity, invest in GRC consultancy services, which will assess your existing cybersecurity governance, risk management, and compliance and provide a definitive outline for improvement. ProCircular's vCISO experts can guide you toward compliance and help optimize your security investments. They can help your team develop security policies, guidelines, and standards.
We create customized workshops to help industry leaders wrap their arms around anything from vendor risk management to compliance with HIPAA and other regulations. Whatever your organization's needs, a dedicated vCISO can help you understand and plan to meet regulatory compliance standards while protecting your and your clients' information.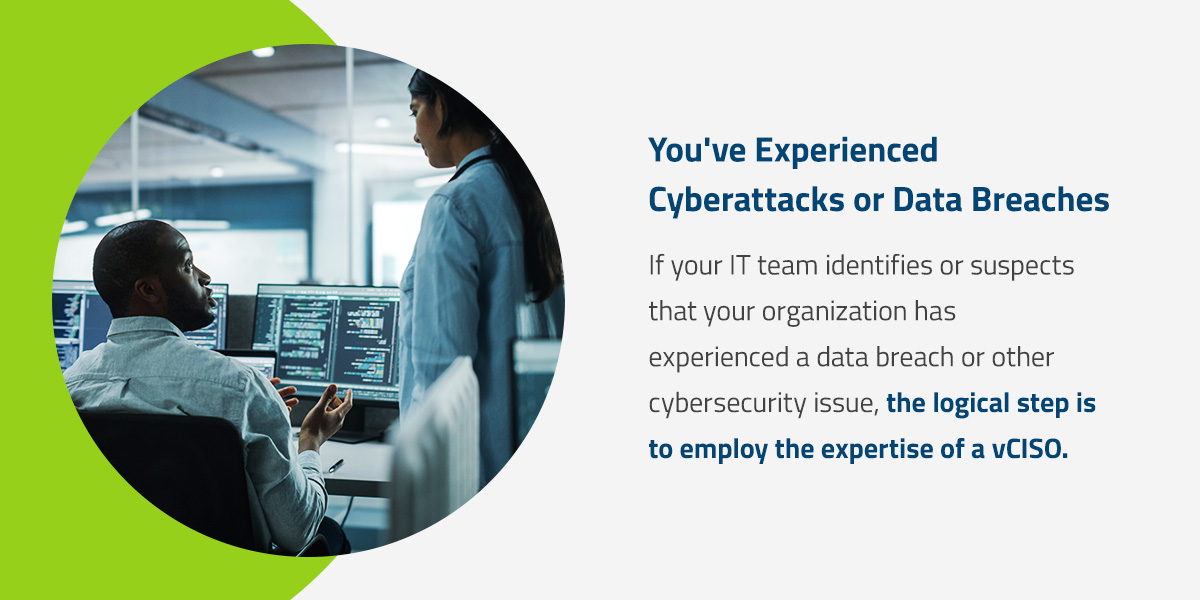 4. You've Experienced Cyberattacks or Data Breaches
If your IT team identifies or suspects that your organization has experienced a data breach or other cybersecurity issue, the logical step is to employ the expertise of a vCISO. A vCISO can rapidly identify the system's weaknesses, suggest necessary upgrades and improvements, and help prepare you to defend against future threats.
In addition to developing effective cybersecurity strategies and ensuring their correct implementation, vCISOs can provide vital support when security incidents are identified. The vCISO can assist with developing a plan to contain the incident and minimize damage.
5. You Require Flexibility and Are Intolerant to Downtime
Whether you have a full-time CISO or a dedicated IT team, they may lack the flexibility to work on projects and issues immediately due to the demanding nature of computing systems and cybersecurity measures. In-house team members may need to handle various responsibilities instead of being able to dedicate all their time and expertise to managing and developing your security systems. That is another advantage of outsourcing to a vCISO who can provide the level of flexibility to work on projects and issues as required.
Additionally, many companies and organizations require continuous CISO support as they cannot afford system downtime, making a vCISO the ideal solution. Certain companies also require scalability, whether they need expansion or their required support levels fluctuate as their security needs change over time or their budgets allow for more or less dedication to cybersecurity.
6. You Aren't Up to Date With Security Trends
With the requirements and workload placed on full-time CISOs and IT departments, staying updated on the latest cybersecurity trends and industry developments can sometimes be overlooked. However, the cybersecurity landscape is everchanging and evolving as new technology and threats arise. Keeping up with best practices and the most recent knowledge takes time and investment, which many companies cannot afford to do effectively.
Using a vCISO cuts out the need for you and your company to constantly research and discover industry insights for yourself. Instead, a vCISO can provide you with ever-increasing expertise on the matter and offer regular updates on the latest developments regarding cybersecurity threats and preventative solutions. The vCISO would thus assist with the long-term cybersecurity goals of your organization while allowing you to focus primarily on your field of expertise.
Does
Your
Organization Need a vCISO
?
Your cybersecurity needs are consistent with the size of your business, the nature of your work, and regulatory data and security requirements. A vCISO offers the most significant returns for established companies with some formally documented and enforced policies and procedures.
Small businesses may need to make strategic investments with higher growth returns. Larger companies likely have enough security concerns to warrant an in-house CISO, who may benefit from the further insights and expertise offered by a vCISO. SMBs will likely see the most benefit from working with a vCISO, though larger organizations should consider the advantages of outsourcing or supplementing their existing cybersecurity team.
The value of vCISO comes from the expert guidance they supply. They will use their experience and tools to help refine, integrate, and optimize security for organizations that need support. There are few better options than a vCISO for erecting initial security programs or maintaining effective security programs. Businesses that have adequate resources and require security leadership should strongly consider contracting CISO as a service.
How to Choose a CISO Service
Due to the nature of vCISO, the program is only as strong as its consultant. While weighing the various options for virtual CISO consulting services, look for consultants who have experience in your business industry as well as similar business industries. Consider their expertise, track record as vCISO providers, and the types of service they provide, and compare offerings before making a final decision.
Your vCISO must work with employees across all levels and segments of the organization. Finding a resource that is well-suited for your unique company culture is essential. With this in mind, you should speak with other players in your industry as well as the cybersecurity industry and heed their professional recommendations. The company that offers the best quality services tailored to your needs at a fair price is likely the option to select.
Virtual CISO vs.
In-House CISO
"Virtual CISO," "vCISO," "CISO as a service," and "virtual CISO consulting services" are all terms that refer to outsourcing or contracting your CISO requirements to an external, remote CISO. They are skilled and experienced professionals who provide cybersecurity advice, information, and guidance to help build and improve your organization's cybersecurity. A vCISO can either be a single expert or a collective team that works on enhancing your company's security on-demand or as your business's budget allows.
Conversely, an in-house or full-time CISO is not on a per-use model or customized service package. They're an employee who exclusively focuses on your organizational security needs. They often work in tandem with the executive team, making decisions on security matters. An in-house CISO offers convenience, in-person interaction, and other benefits, though they are a significant investment, including salary, benefits, and ongoing training.
Do you need a vCISO? If you require virtual CISO expertise, ProCircular's vCISO service includes a dedicated security resource and access to a team with a deep body of knowledge. One individual will spearhead your efforts and bring in subject matter experts to advise in whichever area needs the most attention. Whether compliance, policy, disaster recovery, or incident response, your dedicated CISO will enable you to get your arms around your cybersecurity efforts.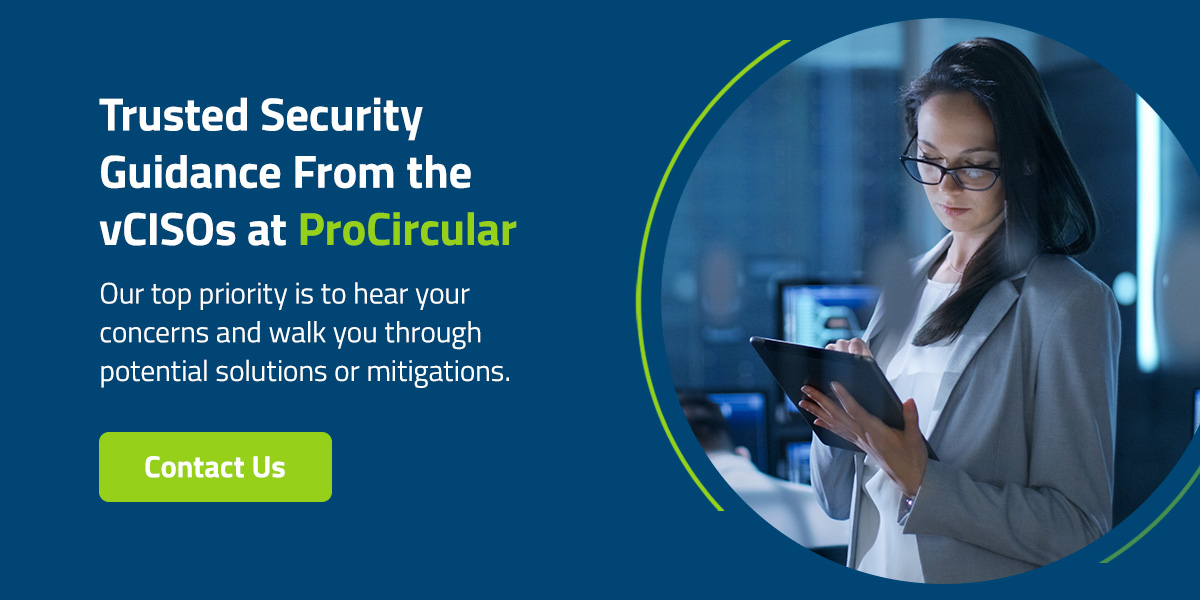 Trusted Security Guidance From the vCISOs at ProCircular
Now that you know when to hire a vCISO, ProCircular offers trusted vCISO specialists who have successfully advised various organizations for years. This experience guides our conversations with you and helps us identify the most critical opportunities for security improvement. Our top priority is to hear your concerns and walk you through potential solutions or mitigations.
To help your organization make rapid improvements, consider enlisting ProCircular's vCISO consulting service. To learn more about virtual CISO consulting services or meet our experts, reach out to our cybersecurity team or call 844-95-SECUR to speak with us today.
Links:
https://www.procircular.com/virtual-ciso/
https://www.procircular.com/governance-risk-management-and-compliance-grc/
https://www.procircular.com/compliance/