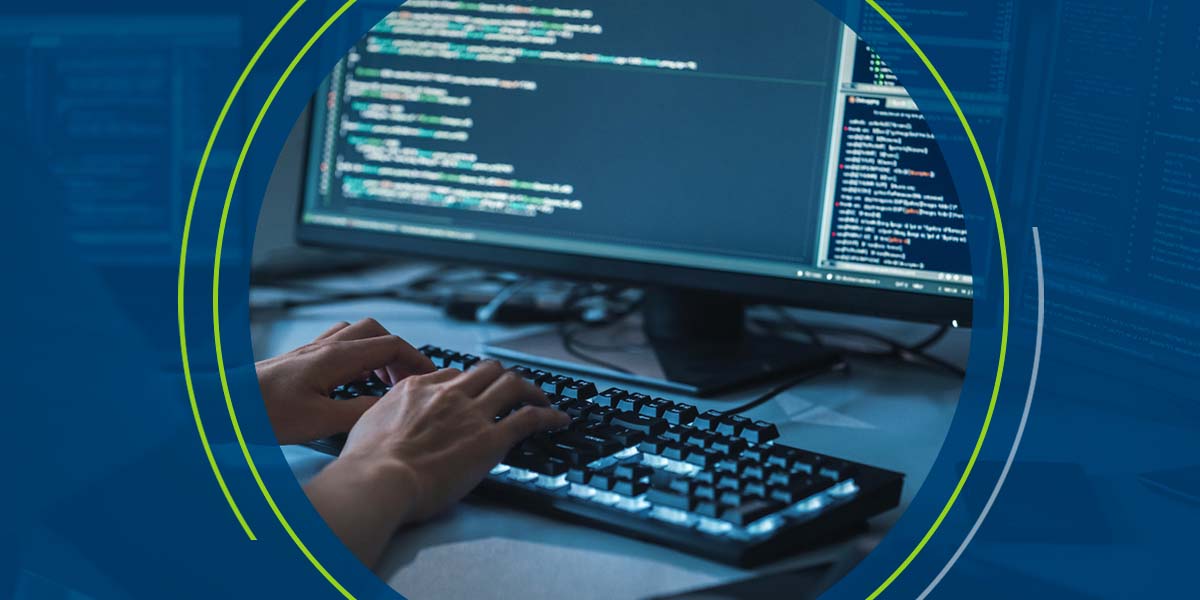 As cybersecurity threats continue to grow, businesses need to develop robust security measures. Increased remote work and cloud storage usage give cyberattackers more opportunities to steal data. And attackers keep finding new ways to break through security features, making it challenging to achieve complete safety.
One way to ensure dependable safety measures is with a penetration test. These tests evaluate your external and internal networks from a hacker's perspective. With this unique viewpoint, they assess the likelihood and impact of potential attacks. Penetration tests help your business work proactively against potential threats, identifying weaknesses before they become more significant.
ProCircular's penetration testers have years of experience and the technical expertise to evaluate your network systems. We conduct a deep reconnaissance of your organization's digital landscape. Then, our experts test your security procedures and evaluate possible weaknesses. Then we help you understand what each finding entails, and what it will take to seal that gap.
Many companies wonder how often to do pen testing. Read on to learn about penetration test frequency and how ProCircular can help.
How Often Is Penetration Testing Needed?
Regular penetration testing is necessary to maintain secure networks. Our cybersecurity experts at ProCircular recommend conducting External and Internal Penetration Testing at least once every year. Immediately after the penetration test, we'll help you address critical and high-severity vulnerabilities. In the following months, your organization can resolve lower-priority insecurities and recheck problem areas to prepare for the next annual test.
Penetration testing requires time and resources, so we use the results of each test for as long as they reliably represent network security. The yearly schedule gives an organization enough time to implement the recommendations from the previous test while staying reasonably up to date on new threats as they hit the cybersecurity landscape.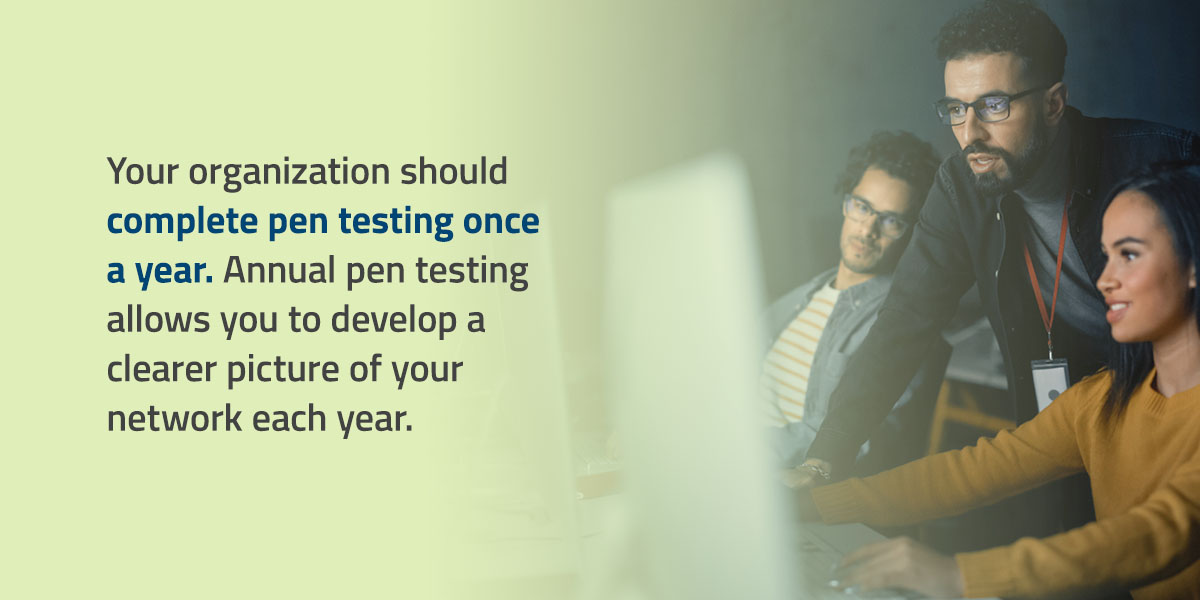 Benefits of

Pen Testing Annually

Your organization should complete pen testing once a year. Annual pen testing allows you to develop a clearer picture of your network each year. Frequent testing also provides benefits like:
1.
Consistent Pen Tests Increase Confidence
You can think of a penetration test as a "snapshot" of your network security. The first annual penetration test report provides a prioritized list of remediations. You can address each recommendation throughout the following year, tightening security measures. The stronger your security is, the more confident you can feel about using cloud storage and other digital solutions.
In this example, an organization of K-12 schools assessed several of their sites to get a baseline of their network security. After that, their following reports become exponentially more valuable as they build a library of snapshots, demonstrating improved security posture and commitment to protecting client data. Evidence of cybersecurity planning will go a long way with potential investors and clients.
2. You Gain
Greater Transparency Into Your Cybersecurity Vulnerabilities
If any part of your environment is internet-facing, it's safe to assume there are at least some minor vulnerabilities in the network. It's often challenging to notice potential flaws from a user's perspective. By altering your viewpoint, you can identify weaknesses in your organization's plan. You can also gain insight into hackers' techniques and mindsets.
Your penetration test report provides a detailed list of deficiencies and other errors in your cybersecurity plans. The information in your report is accurate for up to a year after the test. You can begin monitoring right away and make long-term improvements when the resources are available. It's important to understand that vulnerabilities exist whether they show up in a penetration test or not. Even if you can't address the gaps immediately, knowing where they exist is still highly beneficial.
3. Testing
Reveal
s
Cybersecurity Risks Before They Are Damaging
During a penetration test, an ethical hacker enters your external or internal network. External networks are publicly available, while only employees can access internal networks. Once inside, the ethical hacker works to escalate their privileges to the highest level possible in a domain: domain administrator. During the process, they document their attack path to highlight the vulnerable entry points that need securing.
By addressing deficiencies before genuine attackers can, you strengthen your entire network. You prevent cyberattackers from discovering weaknesses first. Sometimes, simple fixes significantly reduce the likelihood of a successful cyberattack. For instance, you could use patches, password changes or isolating legacy machines.
4. You Ensure Business Continuity
Annual penetration testing can also ensure business continuity. Data breaches and other security disruptions can cost your organization significant losses in time, resources and expenses. Depending on the attack severity, you could be forced to halt business proceedings while you recover.
With regular penetration testing, you can protect yourself more completely from cyberattacks and business disruptions. You maintain a proactive approach to security rather than waiting for attacks to surface. Your organization can keep its network secure and stable.
5. You Maintain Trust With Customers and Employees
Penetration testing can help you maintain strong relationships with customers and employees. Cyberattackers can target customer data and financial details in addition to your organizational information. Your penetration tests can help you protect clients and third parties associated with your company. In turn, you can boost your brand credibility and strengthen your relationships.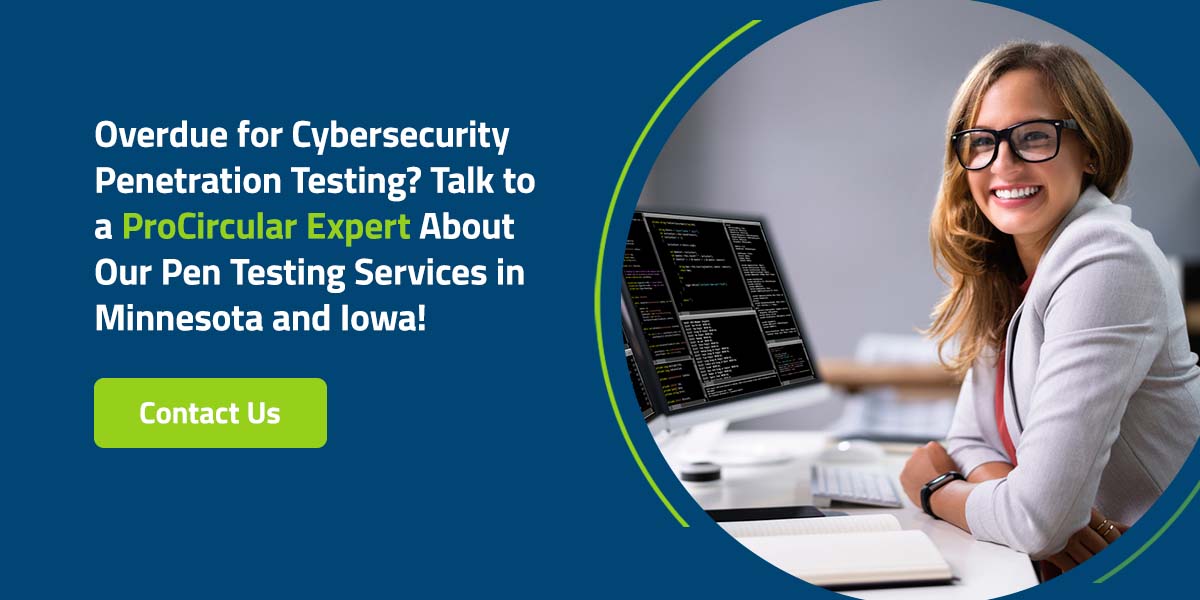 Overdue
f
or Cybersecurity Penetration Testing? Talk
t
o
a
ProCircular Expert About Our Pen Testing Services
i
n Minnesota
and
Iowa!
No matter when you complete penetration testing, ProCircular is here to help. We proudly serve Iowa, Minnesota, and the entire Midwest. As one of the nation's best penetration testing companies, we're committed to providing thorough and high-quality testing services. Our comprehensive cybersecurity penetration testing gives you a detailed look at potential vulnerabilities. Then, we provide valuable insight into how to fix each issue.
To get started with ProCircular, contact our experts today. Or, give us a call at 844-95-SECUR (73287) with any questions.