Business gets more digital every day. Your business likely has an online presence and sensitive data. Companies often have to innovate and embrace new technologies to stay ahead of the competition, and while this innovation is exciting, it also comes with some risks.
Cybersecurity is more than a concept. It's a concrete way of investing in your business by protecting it from cyberattacks and the resulting expensive downtime. Securing your information is crucial for your business, your team, and those who rely on you to keep their data safe. As cybercriminals evolve, companies need to do the same, and investing in cybersecurity is a decisive step in the right direction.
What Is Cybersecurity?
Although you've probably heard the term cybersecurity, many people need clarification on what it is. In short, cybersecurity is the systems and processes organizations use to protect networks, data, and devices from unauthorized access.
Cybersecurity is necessary as your business relies on computers in countless ways, like most others. Stealing information is a lucrative business for cybercriminals. They are always looking for new methods of accessing your systems so they can use the data. Investing in cybersecurity is the logical next step for companies that want to protect their data from digital threats.
Why Invest in Cybersecurity?
Cyberattacks are not limited to large enterprises. They have a better chance of shouldering the costs, but they also invest significant amounts in protecting themselves, making them more challenging to breach. In reality, if your business holds anything of value, you're a target for a cyberattack, and your company does need cybersecurity. Smaller companies are easy targets, making them attractive to would-be criminals.
Many companies choose an innovative approach, and 77% of industrial businesses say cybersecurity is a top priority. Electing to protect your data and operations is the ultimate preventive approach. If you do have a cybersecurity breach, a cybersecurity program can mitigate the damage. The importance of cybersecurity continues to rise, especially for businesses intolerant of downtime.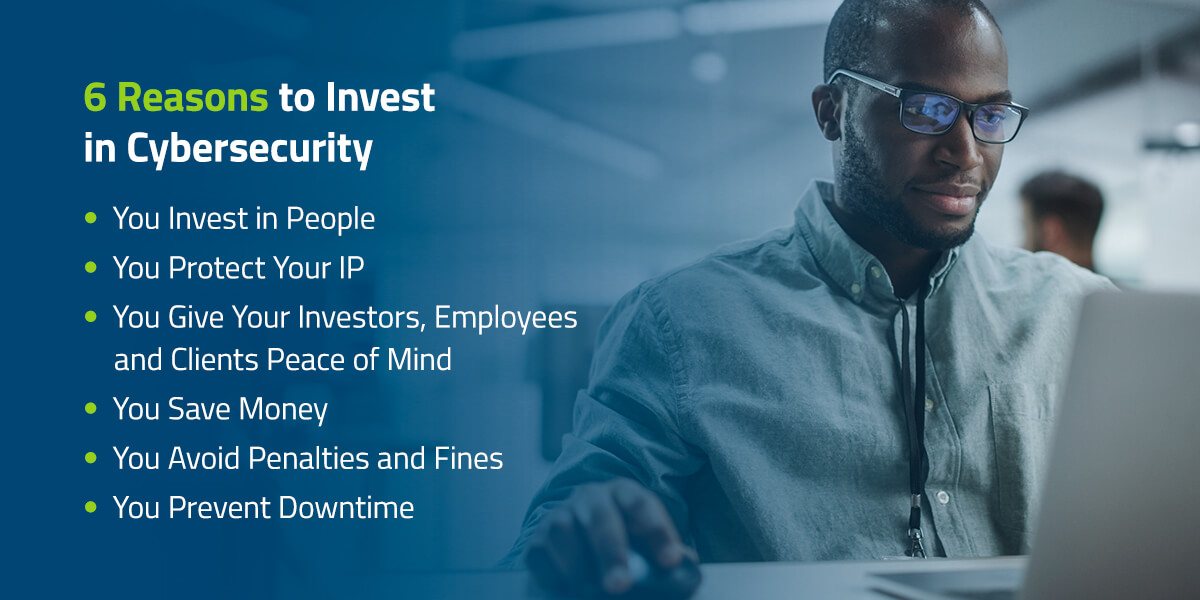 6 Reasons to Invest in Cybersecurity
In the rapidly evolving digital business space, there are many reasons to invest in cybersecurity, including the following:
1. You Invest in People
Keeping your teams safe is vital. Most of your employees are too focused on their roles to give cybersecurity more than a cursory thought, yet they often have access to sensitive data. The human element of cyberattacks is often overlooked, but it can be a serious weak point or one of your strongest defenses.
People make mistakes, fall for scams and sometimes act maliciously. Any cybersecurity investment should begin at home. Most employees compromise security by accident, and investing in cybersecurity narrows the margin for human error and provides comprehensive awareness training for anyone on your team with access to sensitive data.
2. You Protect Your IP
Cybercriminals could breach your security to access your intellectual property (IP) and steal or copy it. Losing your IP and seeing it in the hands of your competitors is unpleasant and potentially damaging to your bottom line.
Investing in cybersecurity adds another robust layer of protection to one of your most important assets — your ideas.
3. You Give Your Investors, Employees and Clients Peace of Mind
Knowing your data is protected is a massive relief, and your team feels the same way. Good businesses understand the importance of protecting their solid and trusting relationships. Protecting people's data is an excellent way to strengthen your existing business relationships and foster new ones.
Many companies will have second thoughts when considering a new partnership if they believe their sensitive data won't be adequately protected. Investing in cybersecurity allows your business to broaden its horizons and strengthen its current partnerships.
4. You Save Money
In 2019, the estimated average cost of a breach was $8.19 million. Data breaches are expensive. Customers may choose to work with someone else after a breach, and you may have to deal with extensive downtime for investigations and cybersecurity repairs. Clients could also sue your business for failing to protect their data.
While cybersecurity comes at a price, it's relatively small compared to the losses you incur after a breach. Investing in cybersecurity is a preventive method of protecting your business funds and relationships.
5. You Avoid Penalties and Fines
Depending on your industry, your business may be subject to stringent rules and requirements for protecting data. For example, health care companies subject to the Health Insurance Portability and Accountability Act (HIPAA) must follow the HIPAA privacy rule for protecting patient health information. Lack of adequate cybersecurity could result in penalties.
Investing in cybersecurity gives you access to professionals who will help you stay compliant and protect your people and valuable relationships.
6. You Prevent Downtime
Your business must be operational to serve your clients, keep your teams employed and run effectively. Cyberattacks pose a significant risk to your operational processes and could result in extensive downtime while you get your systems safe and running again.
A breach could compromise your data and disrupt your daily operations, creating a substantial procedural and financial burden. A quality and trusted cybersecurity provider will work with you to design an incident response plan so everyone involved knows their role in mitigating the damage if you have a breach. They'll also have incident response forensics in place to identify and rectify any vulnerabilities.
Should You Invest in Cybersecurity?
If you've found yourself asking, "Is cybersecurity a good investment?" the short answer is yes. Preserving your company's data and culture is a critical investment. There are many reasons to make a cybersecurity investment. Still, the bottom line is that you want to provide your business, clients, investors, and employees with the best possible protection.
Preventing a cyberattack or mitigating the damage quickly could save your business from malicious attacks. The threats are real, but you can keep them at bay. Good cybersecurity is a sound business decision that can protect your business for many years.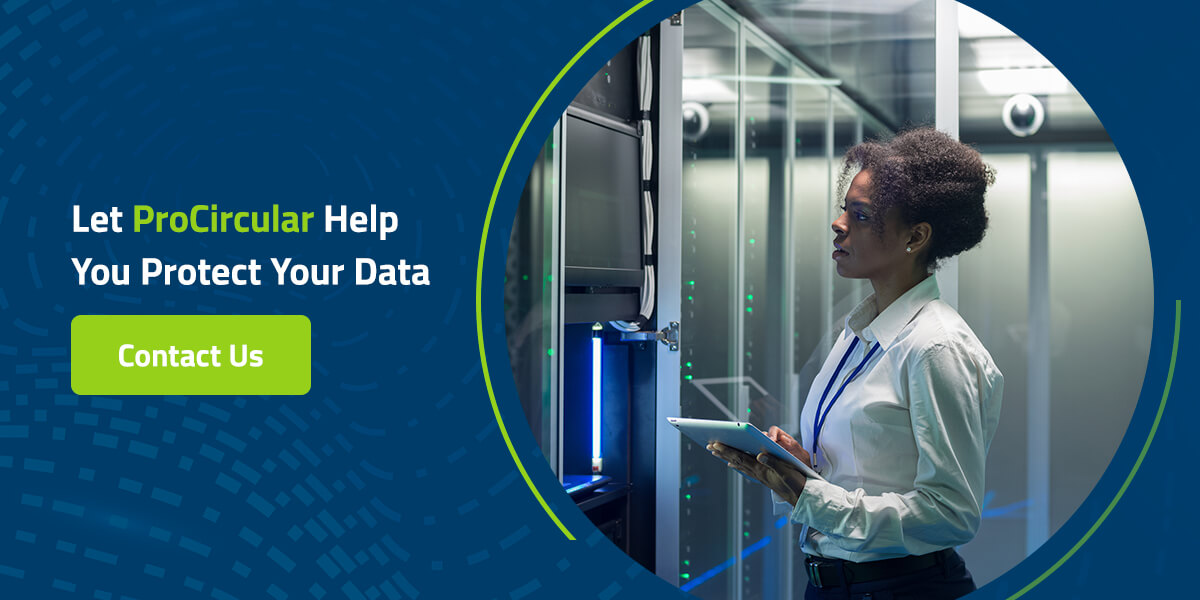 Let ProCircular Help You Protect Your Data
If you're looking for revolutionary cybersecurity from an IT partner you can trust, ProCircular — based in the Midwest — can help you. Our cybersecurity penetration testing can uncover complex security gaps. We will provide practical guidance to help you protect your data and people so your business can operate at its best.
With ProCircular, you can minimize downtime and provide your stakeholders peace of mind. A partnership with us covers every aspect of cybersecurity to provide you with robust and centralized defenses against cybercriminals. Please reach out to us today for more information on how we will work with you to protect your business, now and in the future.